Orlando, FL – Tourism, Business, and Culture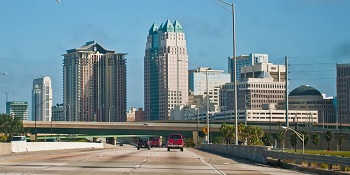 Orlando, "The City Beautiful" as it's called, is known throughout the world because of the names that call this city home. However Orlando, and Central Florida as a whole, is filled with so much more than Disney World, Universal, or SeaWorld, regardless of how much impact they have.
From Small Beginnings
While tourism has become the major economic driver in the region, Orlando actually started in an entirely different industry; Citrus. Even before becoming incorporated, the surrounding area was ripe for citrus farms, more specifically oranges (hence the name Orange County). However, after a long stint of cold seasons called the Great Freeze, the crops dwindled and only a few families remained in power. These families would help to develop the city over the next few decades, and usher in a new era of prosperity.
In spite of the development, the Central Florida region was still predominantly swampland; unattractive to new businesses and residents. What was attractive was the central location between both the Gulf of Mexico and the Atlantic Ocean. For this reason, slowly but surely, the land continued to be bought up and people moved in, roads were developed, and eventually the Orlando International Airport (what would become one of the most trafficked airports in the United States).
Orlando had become a destination, but it wasn't until Walt Disney purchased the land that would become Disney property that it truly skyrocketed. One of the most lucrative land purchases in our history, the area we call "Tourist Town" has grown quickly since the late 60's, now home to multiple theme parks, large resorts, and other tourism generating destinations.
Sights to See
In spite of the relative rapidity of industrial growth, certain areas of nature have been preserved. While Orlando's orange groves have all but gone away, there are still natural springs, beaches, and many trails to travel. Just in the Central Florida region alone, we have Blue Springs, Rock Springs, and perhaps the largest in the state, Wekiwa Springs. Each of these is home to the most beautiful clear waters that run on average 70 degrees Fahrenheit all year round!
If you take the opportunity to visit any of these nature preserves, you will have a good chance of seeing some of the animals that visit Orlando or call it home. Perhaps the most notable of these is the Manatee, which occupy the rivers and springs throughout Central Florida as they migrate. These are a protected species and we must do our part to ensure their safety for years to come.
Due to the infrastructure in the region, Orlando is also perfectly placed for beach access. If you are looking for a beach getaway, you're only an hour and a half from either the East Coast or the West Coast of the state. Both sides have drastically different beaches, but both are incredibly beautiful.
We make it a point in Orlando to keep nature thriving, and specifically block off construction in certain areas. So while the old swampland that is now Disney property has gone away, there is still much beauty to enjoy.
Business in Orlando
Due in large part to the previous two points, Orlando has become a destination for new residents. Every year more and more people come to our humble city to call it home. As with new population comes the potential for new business. We are one of the fastest growing business cities in the nation, and have thousands of small businesses and startups who have started here.
There's a large pool of people to pull from for a workforce, and there's never a shortage of new ideas to develop. While the city proper is relatively small, the entire region is considered "Greater Orlando", and that encompasses miles and miles of developed land and businesses. If you are looking to relocate or find a new place to build a business, there is no limit to your ability to do so in Orlando.
Transportation and Infrastructure
One of the most important aspects to any city is your ability to get around and see everything there is to see. Orlando is steadily improving upon this concept, and has begun constructing a transit system to help get around more easily. The SunRail is a train system that runs throughout the Central Florida region, and has multiple stops in many of the surrounding towns. If you don't want to ride the train, there's Interstate 4 (which is currently being expanded into more lanes). I4 calls Orlando it's heart, as the road connects Tampa Bay on the West Coast, to Daytona Beach on the East Coast. There's no faster way to travel throughout the area than by I4.
If you're out of state, or even country, or you're just looking to travel a lot, Orlando is also home to MCO or Orlando International Airport. Already one of the largest airports in the country, it's soon going to be undergoing an expansion to add more terminals. The reason for this is that Orlando is one of the premiere destinations, and sees more people come in and out than majority of other airports in the nation. In other words, if you're going to travel to or from the city, you'll always have a flight out.
Multiculturalism
Development and industry are important aspects of any city, but the people who make up the citizens are what truly make it great. Due in large part to tourism, Orlando is one of the most diverse cities in the country. People from all around the world relocate here and plant their roots, young and old. You can drive down a stretch of Orange Blossom Trail and see restaurants from thirty different cultures.
Because of the variety of people in the city, Orlando is also one of the most tolerant and progressive cities. It's hard to walk down the street and not see people going out of their way to help others. It's truly a community of people that live here. All walks of life, and religious beliefs, intermingle and cohabitate to make Orlando not just a destination but a home.
What makes this place "The City Beautiful" is that it's more than meets the eye. No matter where you look, there's something for everyone. So whether you're looking to indulge in the attractions or tourist scene, take in a lovely stroll in nature, engage in new business, or experience new cultures, Orlando is the location for you to visit or call home.