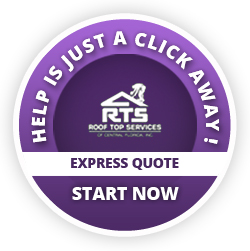 Florida is known as the "Sunshine City," and the roofing material used will not only determine how cool the house is but also how long the roof lasts. As much as it is important to get Vitamin D, people need a comfortable place when the heat proves too much. The type of roof you choose will determine how comfortable your home will be and whether you take advantage of the sunshine or not. Here are some materials your Orlando roofer may have you consider depending on their advantages and disadvantages. They range from low cost architectural shingles, to premium roofing materials that a roofing contractor can install.
Asphalt Shingles
The most common material as far as shingle roofing is concerned because the shingles are relatively cheap and easy to install. There are numerous colors to choose from for a variety of styles and energy efficiency. All shingles are different, but for the most part, asphalt shingles are made from a fiber glass base, bonded with resin. This is then coated with asphalt to help aid in water proofing. We can help you get the custom size, thickness, shape and color that you want, and we can even include heat-reflecting granules to improve cooling. The shingles last an average of 35 years. However, they are not suitable for low-sloping or flat rooftops. Their composition and darker colors also make them absorb more heat.
Flat roofs
Innovations in building materials have created flat roofing that is aesthetically appealing as well as efficient and safe.
Flat roofs:
• Have a slight pitch to aid water runoff
• Need regular cleaning to remove debris and acidic bird droppings
• Are easy to walk on
• Need extra support inside the building, especially if a deck is added
• Are very energy efficient when properly insulated
• Can last over 20 years
Metal roofs
Forget about the dreaded hot tin roof. They have evolved into energy-saving, cost-effective roofing materials. If you
have it in the budget, it's always a good idea to go with the most durable, long lasting material for the job. In most cases,
this is metal. Although initially this will cost you more, a metal roof can last almost twice as long as a traditional asphalt
roof, and is more energy efficient. In addition to this, metal roofs are trending as a more modern, sleek look for your home.
Metal roofs:
• Are available in a wide range of styles, colors and textures
• Are quieter than asphalt-shingled roofs
• Are fire resistant and have a high fire rating
• Protect roofs against sun damage
• Galvanized steel roofs resist rust and corrosion
• Can last for up to 60 years
Synthetic tile
This is one of the most labor intensive materials you can choose for residential roofing. Don't let this deter you
though, an experienced Orlando roofer won't have any issues installing this type of shingle. Most people choose
tile roofing for the way it looks. It gives a home a more Spanish or Mediterranean feel. Even though tile roofing is chosen
for its beauty, it also offers excellent durability.
Synthetic tiles can mimic other roofing materials while reducing the weight, cost, maintenance and more.
We are pleased to show you the wide variety of synthetics available. These roofing materials have many benefits.
Synthetic tiles can give the impression of:
• Traditional asphalt shingles
• Clay or concrete tiles
• Metal panels
• Slate
• Wood shakes
• Thatch
Fiberglass shingles
These are fire-resistant and waterproof. Their lightweight nature makes them easy to install, and they are relatively inexpensive.
However, they are not as durable as asphalt.
Slate shingles
This type of roof is generally only found in upper class neighborhoods, as it tends to be more expensive and difficult to install.
Slate roofs are extremely durable, and offer an amazing visual appeal. They have been around for centuries, and with proper
maintenance, can last your entire lifetime. If you are thinking about slate roofing, be sure to take note that this material is much
heavier than many others, and you will need to have your house frame inspected before installation.
Wood shingles
These can be made of red cedar, cypress, pine and redwood. They provide a great aesthetic appeal, especially considering how
they blend in well with the state's organic look. They are also cost efficient based on their durability. However, they need more
frequent maintenance.
Pale clay tiles
These provide natural heat reflection, making them a great choice for cooling the home in a hot climate. Their curves also help
in reflecting more heat, and they enhance the city's aesthetic appeal. Their problem is that they cannot withstand heavy impact
and usually crack during hailstorms.
Concrete tiles
This type is also good at keeping the sun's heat at bay as they absorb heat slowly. According to Howstuffworks, the Florida Power
& Light Company conducted tests that demonstrated that S-shaped tiles reflected about 74% of the sun's energy.
Solar shingles
These are the most eco-friendly roofing materials as they take advantage of the Florida sunshine to generate energy used
in the home. They also blend seamlessly with asphalt shingles. Their drawback is that they are quite costly.
Green roofs
Sod roofing is centuries old, but modern green roofs blend old-style practices with new technology.
The Ford Dearborn Truck Plant has the largest green roof in North America, encompassing 454,000
square feet or about 10 acres. Green roofs:
• Absorb rainwater
• Absorb sunlight
• Reduce summer heat
• Reduce roof deterioration from ultraviolet and infrared rays
• Act as a sound barrier and lower noise from outside sources
• Insulate buildings from winter elements
• Resist fire
• Can last over 20 years
If you have any questions or concerns about roofing, you can ask any member of our company for assistance. Call us today!