Commercial roofing consists of a material that seals and protects the top of commercial buildings to prevent rain and precipitation from entering. At Roof Top Services, we offer a variety of commercial roofing solutions to provide optimum reliability for your business requirements.
When choosing a commercial roof, you should consider the type of roofing system you require depending on the architectural style of the building, codes and regulations for the property, maintenance requirements of the roofing system, for example, a low maintenance roof won't require any future downtime for repair, and finally, you should contemplate the aesthetics of a roof to enhance business branding.
There are a range of materials and systems that can be used for commercial roofing purposes and each has their advantages.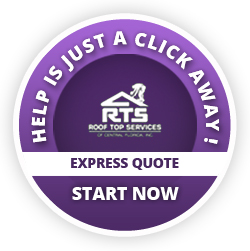 LOW SLOPE COMMERCIAL ROOFING SYSTEMS
Many businesses and corporations traditionally have low slope or flat roofs. The reasons for this are that it optimizes interior space due to its compact design, makes adding additions easier, and that those styles are more accessible and cost efficient because of low energy requirements.
It's important to consider water management and disbursement when deciding on what slope of roof you want for your business. Low sloping roofs can be assembled using a variety of materials and systems, including built up roof membranes, single ply membranes, polymer-modified bitumen sheet membranes and metal panel roof systems.
>> Related Content: Commercial Roof Coatings
Flat or low slope roofs have 3 major components:
Reinforcement – This makes the roofing frame strong and stable, as well as offering defense against punctures.
Weatherproofing – This part is absolutely crucial; it prevents water from entering, and consequently spreading across the whole structure, causing expensive damages.
Surfacing – This protects the two previous layers from the harsh Florida sun and extreme weather. This layer also provides better fire resistance, and hail protection.
COMMERCIAL METAL ROOFS
Commercial roofs made of metal are renowned for their toughness. It's becoming a more cost effective route for businesses to take, because metal roofs are significantly longer lasting than alternative roofing material. Sheet metal roofing is also sustainable due to minimal waste and the advantage of using recyclable materials. Metal roofs come in a variety of styles and colors and are designed to withstand the harshest weather that Florida can muster. Furthermore, metal coated with a high reflective surface in combination with insulation and ventilation design can provide effective savings on cooling and heating costs. As a result, a metal roof is more likely to pay for itself than any other type of roof; they will not crack, shrink, or erode, leaving less money to put into roof repairs, and more money into the business.
COMMERCIAL ROOF REPAIR
There are a variety of problems that can emerge with the roof of your commercial building, such as a flat roof with a tear in the membrane, or a leak that is causing water problems inside the building. We understand that your roof is of utter importance which is why our commercial roofing installation experts are on hand to deal with emergency tarp-over where situations warrant. A selection of our emergency roofing services include tree removal emergency, tarp over, emergency board-up, and temporary roof repairs. We specialize in fixing a variety of problems, including:
Cracking
Broken flashing
Leaking skylights
Standing water
Water stains
>> Related Content: Commercial Flat Roof Repair
Our services are tailored to every customer, depending on your individual requirements. We are only a phone call away to ensure that your roof offers the protection that your business merits.