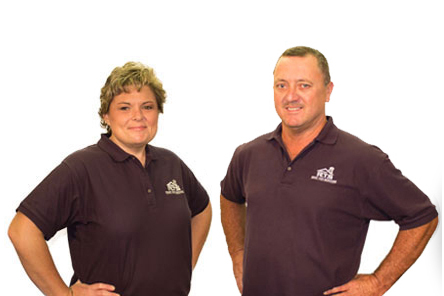 Roof Top Services of Central Florida has been a family-owned and operated Orlando Roofing Contractor for over 26 years. Our philosophy is simple. We aim to provide the best roofing product for the best price. Does that mean we are the cheapest Orlando roofers on the block? No. We do not provide cheap roofing products or services. Many of our customers have been with us for many years because they know Norm and I stand behind our products and our workmanship. Here at Rooftop Services of Central Florida we diligently strive to serve our residential roofing and commercial roofing customers with the goal to assure you are satisfied and ultimately make you customers for life. Our roofing warranties are second to none. Whether you are in need of a full reroof, or simply need a roof repair, we love working for our clients and our clients love working with us. Review our testimonials and see what folks are saying about us, or jump over to our Roof advice blog for additional helpful information.
If you are in need of any help at all, please do not hesitate to contact us. I hope to welcome you to our Roof Top Services client family soon.
Kristal Wingate
President Roof Top Services
Roof Top Services of Central Florida Receives GAF's Prestigious 2015 President's Club Award
Winter Springs, FL – June 20, 2016: Roof Top Services of Central Florida, Inc.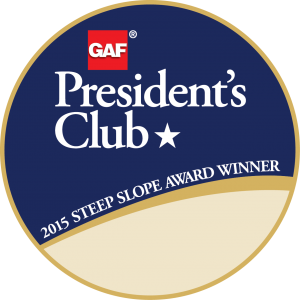 Roof Top Services of Central Florida, Inc., of Winter Springs, Florida, has received the most prestigious contractor award GAF has to offer: The GAF President's Club Award. This highly coveted award recognizes Roof Top Services of Central Florida as one of the "elite of the elite" residential roofing contractors in the United States.
GAF is North America's largest roofing manufacturer, and only GAF Master Elite® Contractors can compete for its residential President's Club Award. To qualify for this award, a residential roofing contractor must demonstrate an exceptional level of excellence in their business, especially in the areas of Installation Excellence, Consumer Protection, and Installer Training.
Roof Top Services of Central Florida has been a GAF Master Elite® Contractor since 2002. To become a Master Elite® Contractor—a status that less than 2% of roofing contractors nationwide have achieved—a candidate must demonstrate proper licensing and adequate insurance, have a proven reputation and show commitment to ongoing professional training.
In 2014, Roof Top Services of Central Florida surveyed its customers, asking their main considerations before hiring a roofing contractor. Customers' top responses were: quality of products, overall reputation, punctuality, care for the property, and fair prices. Roof Top Services regularly meets all of these customer concerns. The company uses only the highest-quality roofing materials from GAF, professionally installed and carrying long-term warranties. Its reputation is evident from its A+ accreditation with the Better Business Bureau and the many positive reviews on Angie's List, Yelp, and Google. The staff is flexible and works to meet customers at the times most convenient for them. For clean-up, Roof Top Services utilizes a magnetic device, which sweeps across a yard to pick up all metallic debris. Finally, the company negotiates favorable bulk pricing with its vendors, allowing it to pass on those savings to end customers.
When customers discover leaks or other roof problems, they may be concerned that a reroof is the only solution. Roof Top Services will inspect a roof to determine if it's in a condition that requires replacement or whether a roof restoration is the more appropriate option. The company's years of experience help customers to learn if they can save money with a restoration, which can dramatically lengthen a roof's life span if done at the right time. Roof Top Services restores and replaces asphalt, metal, tile, and slate residential roofs, as well as low-slope and commercial metal roofs for businesses.
Mindful of the extreme weather that can affect the Orlando area, Roof Top Services offers a 24-hour emergency roof repair service. The company can handle emergency tarp-overs when necessary; it also performs temporary repair services. It can fix or mitigate a variety of problems, including cracking, broken flashing, leaking skylights, standing water, and water stains, and it works with customers to complete their insurance claims.
Never using subcontractors, the team at Roof Top Services prides itself on its highly-rated testimonials and continually provides roofing advice to customers. Whether the customer is residential or commercial, the company treats everyone the same and customizes roof solutions that precisely fit the customer's needs. Standing behind its products and workmanship, Roof Top Services works hard to gain the loyalty of repeat customers, ultimately making them "customers for life."
About Roof Top Services of Central Florida, Inc.
For more than 26 years, Roof Top Services of Central Florida has been diligently serving residential and commercial roofing customers in the Orlando area. Family-owned and operated, the company has the simple philosophy of providing the best roofing products at competitive prices. Providing the peace of mind that accompanies services that surpass customer expectations, the company completes projects on time and within budget. With free estimates and roofing warranties that are second to none, Roof Top Services strives to serve its customers with the goal of assuring complete satisfaction.
About GAF
Founded in 1886, GAF is the largest roofing manufacturer in North America. The company's products include a comprehensive portfolio of steep-slope and commercial roofing systems, which are supported by an extensive national network of factory-certified contractors. Its success is driven by its commitment to Advanced Quality, Industry Expertise, and Solutions Made Simple. GAF was the first roofing manufacturer to offer a Lifetime limited warranty on all of its laminated shingles, which then evolved with the introduction of the GAF Lifetime Roofing System by extending the Lifetime coverage beyond just the roofing shingles. For more about GAF, visit http://www.gaf.com